Connect
Worship Service
Sundays at 10:30am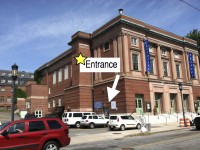 Meeting at Boys and Girls Club
30 Forest St.
Medford, MA 02155
(Located in Medford Square by the Post Office, beneath the Chevalier Theatre)

Directions
By Car
Driving to the church? Obtain directions from Google.


By T or Bus
Closest T Stops are the Wellington and Malden Center stops on the Orange Line, and the Davis Square stop on the Red Line. Once in Medford Square follow the directional signs to Redemption Hill Church and the Boys and Girls Club.

#95

bus route, Fellsway Garage Winthrop or Fellsway Garage High St., stops at Salem St. opposite River St.

#96 bus route, Harvard Sta via George St and Davis Sq, stops Salem St. opposite River St.
#101 bus route, Malden Center Station - Sullivan Square Station via Salem St., stops Salem St. opposite River St.
#134 bus route, North Woburn - Wellington Station via Woburn Sq., Winchester Ctr., Winthrop St., Medford Sq., Riverside Ave. & Meadow Glen Mall, stops at Salem St. opposite River St.

Visit the MBTA for other T and bus stops.
Parking
For a detailed parking map click here.
Primary parking is available in the parking lot adjacent to our main entrance (between the Post Office and the Chevalier Theater/Boys & Girls Club building).
Like all urban congregations, on-site parking can be a challenge. However, we are fortunate to have a number of parking options readily available – all within a short and healthy few minute walk. A large parking lot is located next to Clippership Drive as well as a smaller lot next to Governor's Avenue. Street parking is available on Forest Street, High Street, Salem Street, Riverside Avenue, and Clippership Drive. Metered parking in Medford Square is FREE on Sundays. For your convenience, some parking and directional signs are posted in multiple key locations.
What can I expect?
You can expect a welcoming environment and a worship service that displays both reverence and relevance. We follow a basic liturgy that can be traced back to the early Church: prayer, Scripture reading, songs of praise, and a sermon from God's Word demonstrating how the Bible applies to our lives. We also regularly practice communion and baptism as new followers of Christ are added to the church.
How should I dress?
We welcome you to dress comfortably and be yourself. Most people at Redemption Hill dress somewhat casually while others dress up. Jeans are fine as well as shorts during warmer weather.
What about my children?
We welcome children of all ages at Redemption Hill. We invite all children to experience "Transformation Station," the Sunday morning spot for our Redemption Kids ministry.
Have you been a first time guest at Redemption Hill?
Please take a few minutes to fill out our short survey to tell us about your experience so that we can better serve our guests.
What about inclement weather?
We rarely cancel services because of inclement weather. However, in the event we do, we will make a decision no later than 7am on Sundays and two hours prior to all other events (for Community Groups, contact your respective leader). You can find out by checking the church website, Twitter (@redemptionhill), Facebook, or by watching Channels 4, 5 and 7. If the weather is bad, please use your best judgment about trying to make it to church and make safety your top priority.